This has been the busiest first quarter of the year ever at the easel!
No complaints about that at all, just a huge adrenalin rush and burts of easel energy to create the works needed for upcoming commitments. I have also concluded what I have suspected all along my creative path, I work best under pressure of deadlines!
For the time being I have had to put aside the Affordable Art Affair, but in it's place I have added an Under £100 Gallery on my website so there are still works available at greatly discounted prices and will add more, just not on such a regular basis as before.
Thank you so much for dropping by to my blog, before I go I would like to introduce my latest work.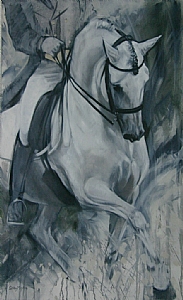 EXUBERANTE II 40x24inch oil on deep edge canvas
Best Wishes
Sally